Push HydroTreater performance with training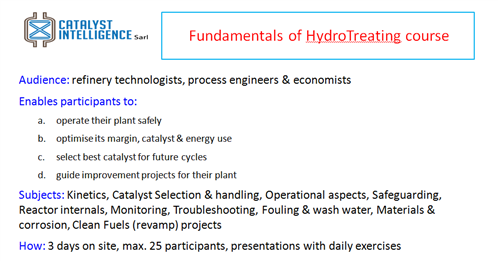 Training versus cost reduction
With many refineries trying to reduce costs, sending staff to outside training courses is often considered an avoidable expense. However, technical training can be a very good investment to reduce refinery costs, especially when learnings are directly applied to one's own refinery units, resulting in higher throughput and less down-time.
Refinery margin improvement from training
Training on how to best operate, optimise & maintain a hydrotreating unit can pay out through increased unit upgrading margin achieved by reduced costs or increased unit revenues. A cost reduction may be possible by processing a heavier (lower cost) feedstock, by choosing an alternate catalyst, or by the avoidance of unplanned shutdowns. A unit revenue increase may be achieved by running at higher throughput after revamp or other low cost options, by increasing yield and availability of the unit, by process monitoring to ensure performance and by optimization of reactor internals and catalyst utilization to mention just a few margin drivers. Finding such improvements requires a multi-functional approach with participants from different disciplines. Attending the same training improves communication between the different functions as attendees start talking the same technical language. This is an important precondition or lifting constraints.

Catalyst vendor or licensor training
To reduce costs for the refiner, many catalyst vendors or process licensors offer HydroTreating seminars in attractive locations for free, but when discussing site-specific questions other refineries will be listening in making it difficult to go into detail and discuss confidential aspects of one's operation necessary to generate a competitive advantage. In addition, it is very hard for a catalyst vendor or process licensor to present an objective (comprehensive) view on all the options available to solve unit constraints. Obviously there is a tendency to present own vendor solutions as preferable, and there is generally less appreciation for the solutions offered by other vendors with the risk of turning the free training into a product marketing event.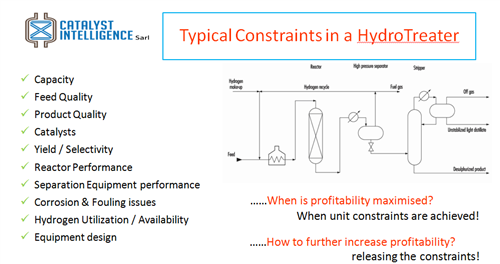 In-house training
The alternative is in-house training conducted by an independent expert who does not sell any catalyst or process license. Having the training on-site avoids travel and accommodation costs and allows participation of other disciplines outside process technologists, like refinery economists, material & corrosion engineers or operating supervisors. Having a more diverse group of people (functions) of the same refinery attending the same (in-house) training allows brain-storming on hydrotreater improvement options, which will have a good chance of successful implementation.

Independent Catalayst training
In addition, by having an independent training company conduct the training avoids that only one type of catalyst technology or process license is presented. Given time, the independent trainer can look at the refinery constraints and the refinery objectives, and based on that information help the refinery define selection criteria for unit performance improvement solutions. The refinery manager attending the training (part time) to present the refinery strategy will also help to concentrate the minds on making real progress.

Training modules
A comprehensive course will start with fundamentals of reaction chemistry & catalysis and the basics of safe unit operation including start-up and shutdown. Hydrotreating catalysts are the heart of the process, and thus their selection, handling and -most importantly- catalyst performance monitoring & optimisation inside the reactor are key subjects to learn & compare against one's own practices. Finally, how to carry out unit troubleshooting as well as knowledge of corrosion mechanisms are important pre-requisites to achieve a high unit availability & utilisation.

Learning objectives
After attending the course the participants will be able to operate their plant safely, optimise its margin, catalyst & energy use, select best catalysts for future cycles, and guide improvement projects. Competencies & skills To summarise, only an objective focus on the latest technologies and their merits will allow the participant to make the best selection for their plant. Exercises and hands-on tools are a "must" to bring participants to a "can-do" level. Together with the right level of ownership, the ever-lasting cycle of unit optimisation and margin enhancement can begin! Optimal Catalyst performance is of high importance!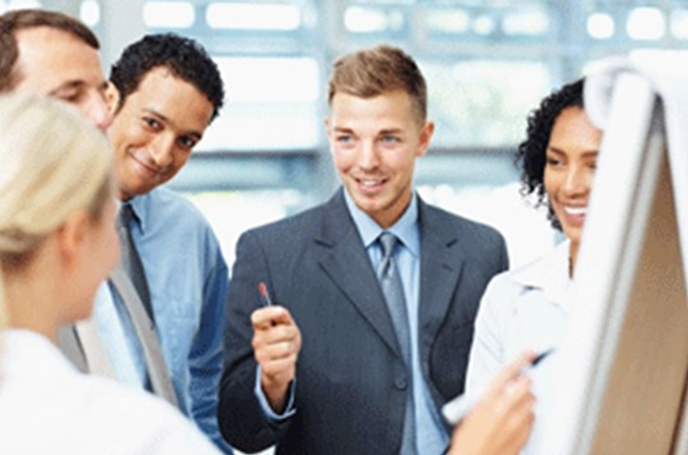 Catalyst-Intelligence is a consulting company providing independent & comprehensive advise on fixed bed catalysts to refineries and petrochemical plants. For more information how we can help you we refer to our website: www.catalyst-intelligence.com
function checkWholeForm(theForm) { var why = ""; if (theForm.EmailAddress) if (theForm.EmailAddress.value.length > 0) why += checkEmail(theForm.EmailAddress.value); if (theForm.CaptchaV2) why += isEmpty(theForm.CaptchaV2.value, "Enter Word Verification in box below"); if (why != "") { alert(why); return false; } return true; } //